macOS 10.13 Wishlist: Features MacRumors Readers Hope to See in the Next Version of macOS
Apple's Worldwide Developers Conference is set to kick off on June 5, and along with a new version of iOS, Apple is expected to introduce the next-generation version of macOS, macOS 10.13. We've heard no rumors on what to expect in macOS 10.13, so whatever Apple introduces will come as a total surprise.
With iOS 11 expected to get a major design overhaul, we can perhaps count on some similar design tweaks in macOS, but beyond that, there's no word on what's coming. As with iOS 11, our forum members have created a couple of macOS wishlists, outlining some of the features they're hoping to see, and while macOS isn't quite as popular as iOS, there are still some solid ideas.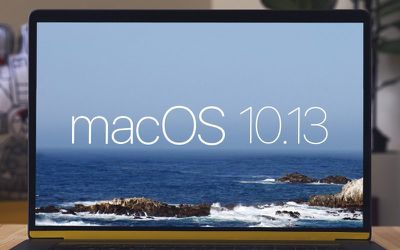 - Redesigned iTunes/Apple Music - Some MacRumors readers would like to see Apple overhaul iTunes in a big way, splitting out Apple Music and turning it into its own distinct app that's not combined with the App Store and iTunes Store.
- HomeKit - Connected home products can be controlled through Siri or a dedicated Home app on iOS devices, but on the Mac, there's no built-in way to interface with a HomeKit setup. A Home app for the Mac would be a welcome addition, and perhaps the Mac could even serve as a HomeKit hub like the Apple TV and the iPad.
- Expanded Dark Mode - macOS Sierra included a Dark Mode that darkens the dock and the drop down menus across the operating system, but several MacRumors readers would like to see an expanded Dark Mode that darkens all interface elements like Finder and Notification Center.
- Multiple docks - When using multiple displays, it would be nice to have access to separate docks for each display.
- iPad/Apple TV second screen - This is unlikely to happen, but one reader wants to use an iPad or an Apple TV as a second screen for a Mac. This suggestion overlaps with the iOS 11 wishlist, where readers said they would like to be able to use their iPads as a secondary Mac display and as a drawing tablet.
- Combined Siri/Spotlight - Several MacRumors readers would like to see Siri and Spotlight combined on the Mac, allowing for a unified search/Siri experience. With Siri integrated into Spotlight, Mac users would be able to type Siri requests and get the same search result with voice or text. Users also want to see Siri improvements, which could happen as Apple is rumored to be working on new Siri features.
- Better full screen options - For users who like to take advantage of full screen apps, better management options would be welcome. An option to open a new window in Split View from the dock or an iPad-style drag-to-close feature would improve Split View.
- Improved window management - Windows 10-style window snapping is a request that pops up multiple times across the wishlist threads. As one reader points out, window management apps like Magnet are some of the most popular in the Mac App Store, suggesting this is something a lot of Mac users would like to see added to the operating system.
- FaceTime Picture-in-picture - macOS Sierra brought picture-in-picture support to the Mac for videos, but it doesn't extend to FaceTime. That's a problem that prevents FaceTime from being used with a full screen app because the FaceTime video window doesn't stay on top.
- Messages - In macOS, there's no support for stickers or other Messages features. Adding support in the next version of macOS would bring macOS in line with iOS.
- Apple News - The Apple News app is limited to iOS devices, but it could easily be brought over to the Mac as a native app.
What features are you hoping Apple will introduce in macOS 10.13? Join in on the discussion about the update on the MacRumors forums. Make sure to check out our iOS 11 wishlist roundup too.