Intel Looks to Broaden Thunderbolt 3 Adoption by Integrating Into Future CPUs, Eliminating Royalties
Intel today announced that it plans to drive large-scale mainstream adoption of Thunderbolt by releasing the protocol's specification to the industry next year under a nonexclusive, royalty-free license.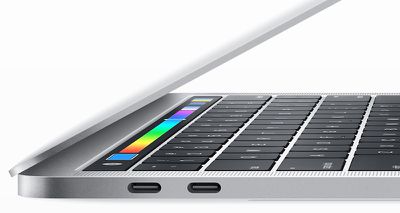 The move should help expand the Thunderbolt ecosystem by making the protocol more affordable for technology companies and accessory makers alike. Intel expects third-party Thunderbolt-compatible chip development to accelerate a wide range of new devices and user experiences.
Intel also revealed plans to integrate Thunderbolt 3 into its future CPUs, but it didn't provide a timeline as to when. The all-in-one design will take up less space on a Mac or PC's logic board, and reduce power consumption by eliminating the need for a standalone Thunderbolt controller.
"Apple and Intel have collaborated on Thunderbolt from the beginning, and as the industry leader in its adoption, we applaud Intel's efforts to integrate Thunderbolt technology into its CPUs and open it up to the rest of the industry," said Dan Riccio, Apple's senior vice president of Hardware Engineering.
Intel said Thunderbolt 3 built into the processor could pave the way for thinner and lighter devices, although the current Thunderbolt 3 controller used in Apple's latest MacBook Pro has a package size of 10.7mm×10.7mm, so any logic board space saved would likely be negligible.
The greater benefit will likely come from Thunderbolt 3's increased power efficiency, paving the way for longer battery life.
Thunderbolt 3 carries power, USB, DisplayPort, HDMI, and VGA over a single port that shares the USB-C connector design, creating one standard for connecting most accessories and peripherals. Apple's latest MacBook Pro has two or four Thunderbolt 3 ports depending on the model.
Thunderbolt 3 can transfer data at speeds up to 40Gbps, allowing for a full 4K movie to be transferred in less than 30 seconds. The interface is suitable for 4K virtual reality experiences on PCs, high-end gaming, and single-cable peripherals such as external displays, docks, and storage drives.