Apple Debuts Revamped 'Switch' Site to Lure Android Users to iPhone [Update: New Videos Added]
Apple today debuted an overhauled webpage aimed at encouraging Android users to switch to the iPhone, introducing a simpler FAQ-style site that highlights iPhone features and makes it clear how simple it is to switch from an Android device to an iPhone.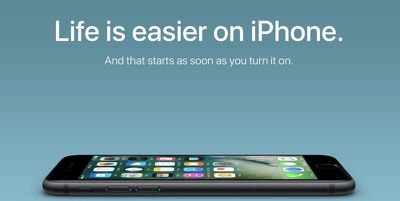 Apple previously had a webpage dedicated to customers coming to an iPhone from Android devices, but it featured less information on the iPhone itself and focused primarily on the Move to iOS app, a dedicated app that helps Android users transfer contacts, message history, photos, mail accounts, calendars, and more.
The new site, while featuring a section on Move to iOS, also attempts to lure Android users with details on the iPhone's camera and its processor, along with information on Apple Pay, Apple's privacy policy, the Messages app, Apple's commitment to the environment, and Apple Support.


The site, which features clever animations and a simple design that's quick to scroll through, ends with an iPhone comparison chart and direct links to purchase iPhones from Apple's current lineup, including the iPhone 7 Plus, iPhone 7, iPhone 6s Plus, iPhone 6s, and iPhone SE.
Apple continues to see a growing number of customers who are switching to the iPhone from an Android device, which Apple CEO Tim Cook covers in nearly every earnings call. During the second quarter earnings call in early May, Cook had this to say: "We saw the largest absolute number of switchers outside of Greater China that we've ever seen in the same period."
Update: To go along with the new site, Apple has uploaded a series of 16 second videos on its YouTube channel. Each video (there are five in total) highlights how easy it is to switch from Android to iPhone with the Move to iOS app or points out iPhone features like speed and privacy.