iPhone 8 Predicted to Cost $999 For 128GB And $1,099 For 256GB, With No 32GB Model
Apple's so-called "iPhone 8" with an OLED display and wireless charging is widely expected to cost in the neighborhood of $1,000 in the United States, and Wall Street analysts continue to guess just how much it'll sell for.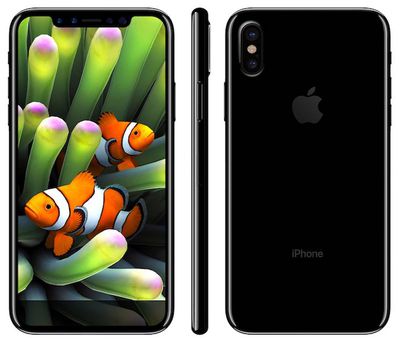 The latest prediction comes from Goldman Sachs analyst Simona Jankowski, who today said she expects the rumored high-end iPhone to be available in 128GB and 256GB storage capacities for $999 and $1,099 respectively. Unlike the iPhone 7, she doesn't believe the iPhone 8 will be available in 32GB.
An excerpt from her research note distributed today:
Relative to the 128GB iPhone 7 Plus, we estimate the new features and higher commodity prices to increase the bill of materials by over $70, which we expect Apple to offset via a $130 price increase, resulting in a starting price of $999 for the 128GB capacity and $1,099 for the 256GB capacity (we don't expect the iPhone 8 to come in 32GB).
Apple's most expensive smartphone to date is the iPhone 7 Plus with 256GB of storage, which retails for $969 in the United States.
UBS analyst Steven Milunovich shared entirely different pricing expectations last month, so it's clear that analysts are simply guesstimating. He thinks the iPhone 8 will come in 64GB and 256GB storage capacities for $850-$900 and $950-$1,000 respectively. His research note didn't mention 32GB or 128GB models.
The takeaway here is that the iPhone 8 will likely be very expensive. The device's exact price tag is likely privy only to Apple at this point, however, so treat any estimate with a healthy dose of skepticism for now.
Goldman Sachs raised its 12-month price target for Apple's stock to $170, up from $164, based on strong iPhone 8 expectations.