Apple to Start Offering iTunes on the Windows Store
Apple plans to bring its iTunes app to the Windows 10 Store, Microsoft announced today at its Build developer event. iTunes, is, of course, already available on the Windows platform, but adding it to the Windows Store will make it easier for Windows users to find the software.
Gaining iTunes for the Windows Store is a win for Microsoft, as the Windows store is currently lacking many key apps like Google's Chrome browser and Spotify. Microsoft has strict app requirements that some companies aren't able to work with.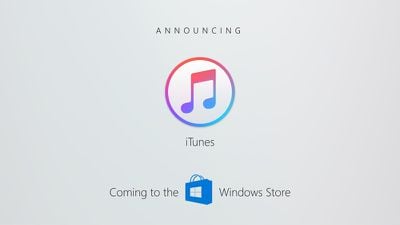 The addition of iTunes could potentially drive more customers to use the Windows 10 Store, with iTunes said to be one of the apps that Windows users search for
most often
.
According to Microsoft, iTunes will be added to the Windows Store by the end of this year.