Visual Design Student Reimagines Apple Music With Unified Artwork, Better Discovery, and More
When Apple Music launched in 2015, one of the biggest complaints from users and critics centered on the somewhat confusing user interface of Apple's first foray into music streaming. Although the app was redesigned last year in iOS 10, concerns were then raised around the oversized nature of Apple Music's new typography and artwork.
This week visual design student Jason Yuan, who studies at Northwestern University, has shared a new project that he's been working on the past few months, which was sparked when Apple rejected him for a graphic design internship at Apple Music. Yuan decided to take Apple's rejection, which referenced wanting to see "more growth and training," and turn it into a new passion project focused on a visual overhaul of Apple Music (via The Next Web).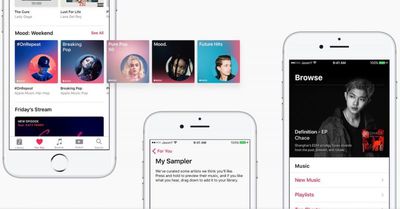 He said his redesign provides a few "potential solutions" to the service's problems.

At first, I was frustrated — Northwestern University doesn't offer any sort of undergraduate graphic design program, so whatever growth they were looking for would have to be self taught … but as soon as I came to this realization, I became inspired to embark on what became a a three-month long journey to the holy grail — the iOS app that Apple Music deserves.

For me, this was an opportunity to really dig my teeth into UX research and design, an excuse to spend way too much time on Sketch and Principle, a reason to bore everyone around me with my notebook of crudely drawn wireframes … My process was guided by qualitative user research, Apple's official Design Principles, and my own designer intuition.
One of Yuan's first ideas is called "The Sampler," which he pitches as a replacement to "My New Music Mix." The Sampler would be for users "reluctant to sit through an entire playlist full of new music," and would present Apple Music subscribers with samples of songs in a Tinder-like UI that they could swipe up to reject or swipe down to add to their library. These samples would last around 15 seconds and present highlights from the songs in question so users would immediately know if they like the music or not.


Any music that is swiped down upon is then saved to Yuan's equivalent of the My New Music Mix, taking out the automatic curation of content currently in place and making it more personalized in Yuan's design. Yuan said that The Sampler was inspired by the idea of gamification, which he argued would allow the user to create "an immediate connection to the music they discover," instead of just taking a shot at what Apple Music serves up to them now.
The visual designer also came up with more cohesive branding in Apple Music's album and playlist artwork, which he argued is currently "kind of all over the place," with a mix of collages, 3D typography, and more for various radio stations and activity playlists. To fix this, Yuan focused on the circular bubble art that Apple Music subscribers encounter when signing up for the service -- which also references the iPod click wheel and iPhone contacts -- while subtly altering colors and profile shots for the artist and playlist in question.


Yuan went on to address the basic UI complaints currently leveled at Apple Music, reducing the font size and white space of the app's launch tab while also introducing a new "Watch" tab for the service's upcoming slate of TV shows. He eliminated what he argued as extraneous UI additions, like the "Downloaded Music" front page menu option, and personalized For You so it introduces music based on location, time, and even recent social media activity.

The current Apple Music (left) compared with Yuan's redesign (right)
Connect is gone for good in Yuan's design as well.
Truth is, I didn't see any data from my research that would justify keeping the Connect feed in the app as is. Users were more interested in connecting with friends and family through music (a la Spotify) instead of with artists through a watered-down Twitter.

I think Apple should focus on integrating existing social media with Apple Music instead of trying to push yet another one on its already overburdened consumers.
There are plenty of other highlights from Yuan's list of redesign ideas, including tweaks to Now Playing, Browse, Search, and how users love or dislike a song. Yuan ended his article saying he's happy with the knowledge he gained and progress he made redesigning Apple Music as a personal project, but never intended the tweaks to be taken seriously by Apple.
"I don't expect the good folks at Apple Music to take anything from this case study," Yuan mentioned. "In fact, I might actually have a heart attack if anyone working on Apple Music stumbles upon this article… but if you're out there, I hope my work was able to give you some ideas and spark some conversations!"
Check out the rest of Yuan's Apple Music changes in his Medium post right here.