Tim Cook and Jeff Williams Named to TIME's List of 20 Most Influential People in Tech Right Now
Apple CEO Tim Cook and COO Jeff Williams have been named to TIME's list of The 20 Most Influential People in Tech Right Now.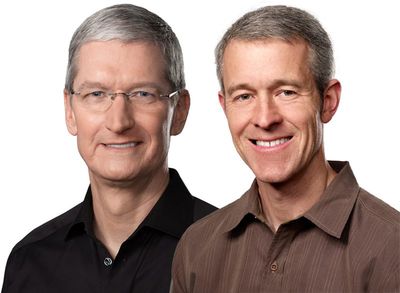 Cook ranked fourth for his "nearly unmatched influence over the technology world" as head of the world's most valuable company.
Anything Apple does is bound to be copied by a seemingly endless number of rivals, meaning his choices will reverberate far beyond One Infinite Loop. Today, Apple is rumored to be experimenting with everything from advanced artificial intelligence to augmented reality and self-driving vehicles. Given Apple's role as tastemaker extraordinaire, how Cook decides to move forward with any one of these projects will shape the future of the consumer technology landscape.
Cook finished behind Tesla CEO Elon Musk, Amazon CEO Jeff Bezos, and Facebook CEO Mark Zuckerberg on the list.
Williams ranked 17th for his "no small task" of overseeing Apple's entire supply chain since 2010 as Cook's right-hand man.
Cook may be the public face and chief decision maker at Apple, but Jeff Williams is second in command. An Apple veteran who's been with the company for nearly 20 years, Williams is often referred to as "Tim Cook's Tim Cook." He was named chief operating officer in late 2015, a post previously held by Cook, and has been overseeing Apple's entire supply chain since 2010, no small task given the complexity of the company's hardware operations. Williams also oversaw development of the Apple Watch, the company's first new product category during the Cook era and a sign he's closely involved with new projects.
Some others that made the list include IBM CEO Ginni Rometty, Uber CEO Travis Kalanick, FCC chairman Ajit Pai, and Google CEO Sundar Pichai.