Apple subsidiary FileMaker today announced the launch of FileMaker 16, the newest version of the company's popular database platform that's designed to make it easy for businesses to build a range of customized apps able to work effortlessly across iPhone, iPad, Mac, Windows, and the Web.
FileMaker 16 focuses on enhancing mobility, scalability, and security, along with providing new features and integrations for an improved app creation experience.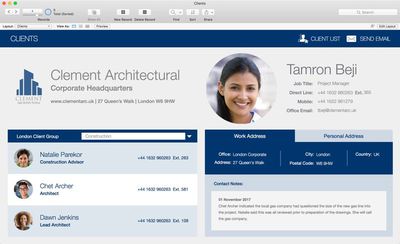 "Today's leaders empower their teams with the tools they need to quickly adapt as their needs change. The FileMaker 16 Platform builds on our track record of success, providing customers with the latest features, enabling them to create great apps that work across iPad, iPhone, Windows, Mac and the web."
When developing an app, FileMaker users have access to a new Layout Objects window, which offers up a hierarchical list of each object in a layout. The feature is designed to make it easier to make quick changes to an object without the need to ungroup the object set.
Enhanced cURL options and predefined JSON functions improve integration to make it simpler to exchange data with other web services and applications, and for large teams, custom apps accessed through FileMaker WebDirect can now be used by up to 500 users simultaneously.


Security has been enhanced and simplified with the addition of third-party authentication through providers that include Amazon, Google, and Microsoft. These existing account credentials can be used to log into FileMaker-based custom apps.
For the FileMaker Go app, there are new animations and transitions that are designed to provide visual cues to make it easier for users to navigate through their custom apps, along with a new enhanced signature capture feature for signing documents on the iPad or iPhone.
Pricing for FileMaker is not changing with the release of FileMaker 16, but there have been some pricing changes in certain countries due to currency adjustments.
Since last year, FileMaker has used a subscription licensing structure for teams of five or more users, with access to FileMaker Server and FileMaker systems across desktop, mobile, and web. Pricing starts at $888 per year for a team of five. A perpetual license is also available for $2,664 for a team of five, but it does not include access to future versions of FileMaker.
For individuals, a perpetual license for FileMaker Pro 16 is available for $329, while FileMaker Pro 16 Advanced is priced at $549. A free trial is also available.