Amazon to Unveil New Echo Speaker With Touchscreen as Soon as Tomorrow
Amazon is planning to update its Amazon Echo line with a new speaker that includes a screen and video calling capabilities, reports The Wall Street Journal.
The upcoming speaker will feature a 7-inch touchscreen, used to make internet-based video/telephone calls and display visual results for spoken queries. Camera functionality could also be included, mirroring the capabilities of the recently introduced Echo Look.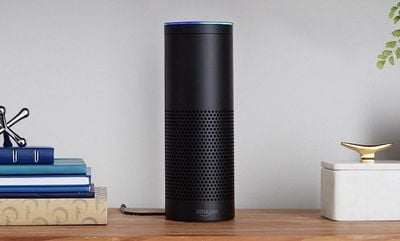 Amazon's existing Echo speaker
The new Echo screen device will likely support some of the same functionality as the Echo Look, which will enable consumers to take videos and photos of their outfits and compare them via algorithms, according to one of the people. It is unclear why Amazon is launching the two devices so close together or how the market segments they target may differ.
Amazon may be planning to unveil the speaker, which has been in beta testing for a few months, as early as tomorrow, Tuesday, May 9.
Amazon's existing Echo device is currently priced at $150, but it normally sells for $180. The new speaker is expected to be sold for over $200, due to the included display.
Along with the new speaker, Amazon is also said to be planning to roll out telephone services to existing Echo devices over the next few weeks. To begin with, intercom functionality may be available, allowing two Echo devices to communicate with one another.
The imminent launch of an Amazon Echo device with a display comes as Apple is rumored to be nearing the final stages of development on its own Siri-based speaker, which would compete with the Echo and the Google Home.
Rumors have not suggested Apple's upcoming device will include a display, but Apple marketing chief Phil Schiller recently made some comments suggesting voice-activated smart speakers would be better with screens.
According to Schiller, a voice assistant without a screen doesn't "suit many situations," especially when it comes to social networking services, photos, and games.
I have yet to see any voice-only games that, for me, are nearly as fun as the one that I play on my screen. And so I think voice assistants are incredibly powerful, their intelligence is going to grow, they're gonna do more for us, but the role of the screen is gonna remain very important to all of this.
Amazon's new Echo product will be the first of the in-home smart speakers that includes a display. Apple's own device, which is said to include Siri integration and "excellent acoustics performance," reportedly has an "over 50 percent chance" of debuting at the Worldwide Developers Conference in June.