T-Mobile Teases Plans to Launch Nationwide 5G Network in U.S. Within Three Years
T-Mobile today said it plans to roll out a 5G network in the United States starting in 2019, with a target of 2020 for full nationwide coverage.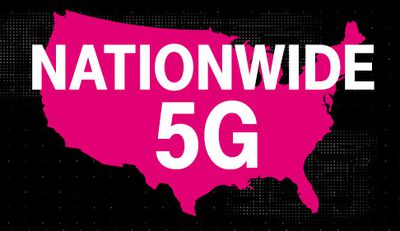 The third-largest U.S. carrier said it will use part of its newly acquired 600 MHz low-band spectrum to deliver 5G coverage from coast to coast.
"The 600 MHz spectrum will allow 5G to be deployed nationwide, bringing the ultimate experiences to T-Mobile's enterprise customers and consumers throughout the United States," said Borje Ekholm, President and CEO, Ericsson. "We will support T-Mobile US with 5G radio development for this spectrum. Commercial availability of the product will be aligned with 3GPP standardization and ecosystem support."
5G networks will pave the way for faster data speeds and lower latency on smartphones and other cellular-enabled devices. Last year, AT&T said it reached speeds above 10 gigabits per second in early 5G lab trials, and it has even promised speeds up to 100 times faster than 4G LTE.
5G isn't expected to become a reality until at least next year, as 3GPP is still working to establish the first set of 5G standards by 2018.
T-Mobile will help drive 3GPP certification for 5G in 600 MHz. As 5G standards are defined, chipsets are delivered, and equipment comes to market, T-Mobile will quickly deploy 5G nationwide in a large swath of unused spectrum.
T-Mobile expects the first smartphones compatible with the 600 MHz spectrum to be released later this year.
In February, Verizon said it will begin offering gigabit broadband internet over a wireless 5G connection to pilot customers in 11 select U.S. markets during the first half of 2017. AT&T is also rolling out "5G Evolution" speeds in over 20 major metro areas, but as widely reported, it's not really 5G.