Ride-sharing company Didi Chuxing has raised more than $5.5 billion from investors in China, marking the largest amount of funding earned by a technology company ever in the country. Didi, which Apple invested $1 billion into last year, is believed to use its new funding to expand beyond China, invest in artificial intelligence initiatives, and even look into various driverless and automated vehicle technologies (via Bloomberg).
Specific investors for this round of funding were left unidentified, but people familiar with the investments suggested the likes of SoftBank Group, Silver Lake Kraftwerk, China Merchants Bank Co. and one arm of Bank of Communications Co. were all backing Didi. The company's total valuation is said to have been raised from $34 billion -- which it earned after acquiring Uber's business in China -- to now sit at $50 billion.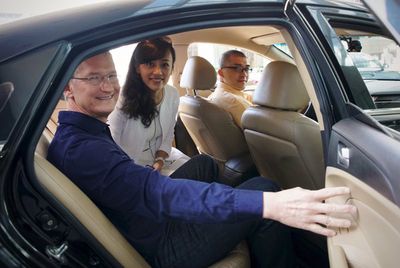 Tim Cook catching a ride with Didi Chuxing president Jean Liu
The funding places Didi ahead of Xiaomi's $46 billion valuation, and makes the company the world's second most valuable startup after Uber's $68 billion.
Ride-hailing giant Didi Chuxing raised more than $5.5 billion from investors, scoring the largest round of funding ever for a technology company to bankroll an expansion beyond China and into driverless technology.

That price tag would surpass smartphone maker Xiaomi Corp.'s and make Didi the world's most valuable startup after Uber. Didi amassed $10 billion in cash and equivalents last year, but the deal yields more ammunition as it prepares to challenge Uber and Alphabet Inc. in automated driving, and buys the company time to carve out new revenue streams.
Didi's expansion beyond hailing cars is believed to become "increasingly important," due to China's increasingly strict regulations regarding qualifications for the users who drive Didi vehicles. In places like Beijing and Shanghai, the company's drivers are required to be local residents, preventing what is estimated to be thousands of potential Didi Chuxing drivers from nearby towns and countryside to work for the startup.
As a potential major pillar of its expansion, Didi executives hope that investing into driverless technology research will assist in overcoming hurdles related to China's human driver restrictions. The further Didi investigates and tests driverless technologies, the more data Apple receives on the subject, since the companies are now working together and sharing notes related to autonomous innovations one or the other might make.

Cheng and President Jean Liu hope that adopting driverless technology will help overcome such hurdles in the future. Didi wants to take advantage of data on 400 million users across some 400 cities to aid research into AI and autonomous vehicles. It opened an artificial intelligence lab in Mountain View, California last month, called Didi Labs. And it's already lured dozens of stalwarts in the field including former Uber auto-security expert Charlie Miller, known for remotely hacking into a Jeep Cherokee in 2015.
While Didi works on implementing driverless rides for its users, Apple is said to be working on a self-driving platform of its own, with a deadline of late 2017 when the company will officially decide on the "feasibility" of its progress on the tech at that time. Just this week, a Lexus SUV was spotted leaving an Apple facility in California, coming equipped with various sensors and cameras and believed to be one of the vehicles Apple is using to test self-driving cars on the road.