Apple's third retail store in the United Arab Emirates opened today at the Dubai Mall, and Apple has shared several photos from its debut on the official Apple news site.
Apple Dubai Mall, located in downtown Dubai, features massive windows with an impressive view of the Burj Khalifa, the tallest structure in the world, along with the Dubai Fountain below. It spans two stories and offers the design that's been seen in newer stores like Apple Union Square, plus it includes carbon fiber "Solar Wings" and a 186-foot curved storefront.
The new Dubai store features "Today at Apple" sessions focusing on art, design music, photography, videography, and coding, a feature that debuted at the
Apple Store in San Francisco
last year and will soon expand to all Apple retail stores around the world.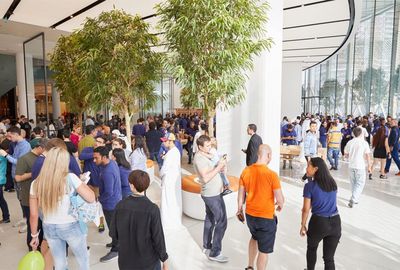 Today at Apple sessions are primarily taught by Creative Pros, which Apple has described as the "liberal arts equivalent" to its more technical Geniuses, but in select cities, well-known artists, photographers, and musicians will also teach classes.
Apple Dubai Mall is the company's third Middle Eastern store, joining stores at the Mall of the Emirates in Dubai and the Yas Mall in Abu Dhabi.