GIF creation and sharing company Tenor is today introducing the first app that puts GIFs directly into the Touch Bar of the 2016 MacBook Pro, which is debuting amid a rebranding of the company's Mac app as well. Previously known as "GIF Keyboard" the app will now be called "Tenor for Mac," and when it's launched on the desktop Tenor will display emojis on the Touch Bar and allow users to tap one to see a list of GIFs representing certain feelings, such as "Happy," "Tired," "Excited," and so on.
Touch Bar support is also coming to search results in the Tenor Mac app, so when users query the service for a specific GIF they will receive a horizontal list of GIFs related to their search input. Users can then use the Touch Bar to scrub through the search results, and when the right GIF is found a simple tap will copy it to the Mac's clipboard, allowing it to be shared in the usual places, like in Messages.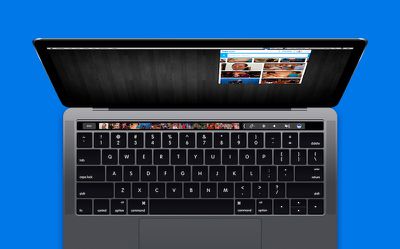 The right GIF makes all the difference. As the mobile GIF-sharing leader, we at Tenor know that people often struggle to get their point across quickly. So we deliver just the right GIF that says it better -- fast.

Today we're extending that lightning-fast experience to the laptop with the launch of our Tenor Mac App. Now available for free in the Mac App Store, Tenor makes it easy to search, discover and share GIFs across apps, browsers and messages. Tenor for Mac is the first app to put GIFs directly into the Macbook Pro's Touch Bar.
Tenor's Mac app will otherwise remain unchanged with the new rebranding and Touch Bar update. Users can still browse through GIFs using the service's dropdown toolbar menu, as well as create their own collections of GIFs -- called "packs" -- themed around specific emotions, TV shows, movies, or whatever they choose.
If a GIF is missing from the service, users can also simply drag and drop the one they want into Tenor, after first saving it to their computer from another source. Word on a similar rebranding update for the GIF Keyboard iOS app was not given.


Tenor for Mac is powered by the company's "Emotional Graph," which aggregates more than 200 million GIF searches that are executed every day as a means to map the most popular GIFs people use to express themselves. Using this information, Tenor then displays the most-used GIFs at the top of its search results so users can find what they want at a quicker pace.
Tenor for Mac will begin replacing GIF Keyboard in the Mac App Store today, and will be available to download for free. [Direct Link]