Concept Imagines What a Modular Mac Pro Might Look Like
Last week, Apple executives announced that the company is working on an updated Mac Pro that features a revamped modular design to accommodate regular component upgrades.
The launch of the new modular Mac Pro is at least a year away as development has just started, so we have no idea what the machine will look like when it's finished, but that hasn't stopped designers at CURVED/labs from dreaming up a conceptual design that includes a simple Mac mini-style box and a matching Apple-branded display.
The imagined Mac Pro features a design that's entirely upgradeable, with two slots for full-sized graphics cards, rotating housing sides, and easily accessible sections for the processor, RAM, and storage.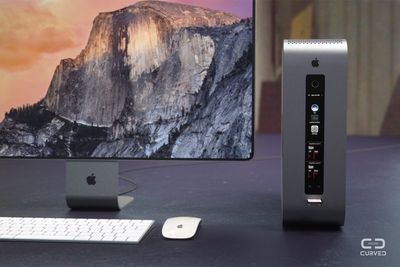 Holes on the top are designed to allow hot air to escape, and there are added features like a Touch ID power button, a Touch Bar for accessing information on included components, and USB-C, USB-A, and HDMI ports, along with a microphone and a headphone jack.


Accompanying the imagined Mac Pro is a revamped 27-inch Apple "Cinema Display" with ultra thin bezels, an iMac-style stand, and and USB-C ports at the back.


Again, this is in no way representative of what the finished Mac Pro might look like, but it does imagine features that are in line with what Apple executives have said about the Mac Pro so far. It's going to be a high-end high-throughput machine that will facilitate regular upgrades to meet the needs of Apple's pro user base. And given its modular nature, it will ship with an Apple-branded "pro" display.
Apple is in the process of "completely rethinking" the Mac Pro and execs say it will take "longer than this year" to finish. What that means is not entirely clear, but one rumor has suggested it might not launch until 2019. Apple has a dedicated team working on the machine, which will serve the company's "most demanding pro customers."