Starbucks today updated its iOS app to introduce a new feature that allows Starbucks customers to send digital gift cards to friends and family members using the Messages app.
To send a digital Starbucks gift card, the Starbucks Gifts app will need to be installed from the Messages App Store. From there, the app offers an interface with several different gift card graphic options and $5, $10, and $25 denominations.


Sending a gift card requires Apple Pay, which is used to pay for the gift card directly in the Messages app, charging the amount to an Apple Pay credit or debit card. Giftees can then use the digital gift card like any other digital gift card sent via email.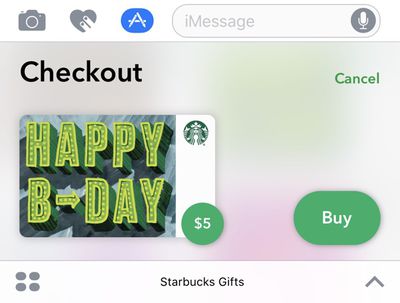 Along with the new Starbucks Gifts feature, today's update also introduces new push notifications, a store location filter for the Nitro cold brew, and a new design and interface for the mobile ordering feature.
What's New in Version 4.3.4
Starbucks(R) Gifts in iMessage
Send a digital gift card with the Starbucks(R) iMessage app and Apple Pay. Surprise someone special with an instant gift, seamlessly integrated into your texting conversation. It's way more delightful than asking someone you love to check their email.

Push notifications
If you're opted-in to receive notifications, you may receive new messages based on how often you use the app.

Mobile Order & Pay
Reviewing your order has a brand-new look and animations. Remove or duplicate items with a tap. You can now see all customizations in the updated card views. Visual updates to suggested items.

Store locator
Are you as obsessed with Nitro cold brew as we are? Find it at a store near you with a new filter option.
Starbucks for iOS can be downloaded from the App Store for free. [Direct Link]