T-Mobile Rolls Out Tools to Help Customers Avoid Scam Phone Calls
T-Mobile today announced the launch of two new anti-scam features designed to cut down on scam phone calls, Scam ID and Scam Block.
Scam ID, as the name suggests, alerts customers when an incoming call is coming from a phone number known to be associated with a scam. Scam Block goes one step further, automatically blocking any calls identified as scams by Scam ID.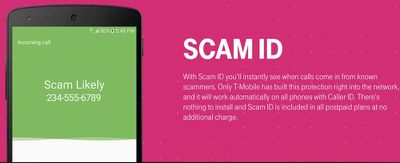 "Every year, three out of four people in the US get at least one scam call--and fraudsters cheat consumers out of more than half a billion dollars per year! It's insane - so we had to do something to protect our customers!" said Neville Ray, Chief Technology Officer for T-Mobile. "So the T-Mobile team designed a brilliant set of patent-pending technologies -- then built them directly into our network, so there's nothing customers have to do. No hoops to jump through, no app to download. Like most T-Mobile technologies, it just works."
Scam ID is powered by a global database that contains "tens of thousands" of known scammer numbers. T-Mobile updates the database in near real-time by analyzing every call that comes into its network with "behavioral heuristics" and "intelligent scam pattern detection." Every call is analyzed to identify and block scammers.
Both Scam ID and Scam Block are available on all devices on T-Mobile's network and will be included at no cost. The features are rolling out to customers starting today, and will be available to T-Mobile ONE customers first.
New T-Mobile ONE customers will automatically get Scam ID beginning on April 5, while other T-Mobile postpaid customers can enable the feature on that date by dialing #ONI# (#664#). To turn on Scam Block, customers can dial dial #ONB# (#662#).
T-Mobile warns that enabling Scam Block could potentially cause customers not to receive legitimate calls, so caution should be used before turning it on. Once enabled, it can be turned off by dialing #OFB# (#632#).