Apple, Microsoft, Netflix, Facebook, Twitter, Google, and more than 60 other companies have either decided not to sign, or have yet to sign, a new legal brief filed in federal court in Hawaii this week, constituting the makings of a lawsuit looking to block the second version of President Donald Trump's travel ban (via Reuters). Trump referred to the new order as a "watered-down version" of the original, but a federal judge in Hawaii nevertheless blocked the revised order.
Over a month ago, Apple joined 100 U.S. companies in support of a legal brief that opposed the first immigration ban. That order banned Syrian refugees from entering the United States, blocked citizens of seven countries (Iraq, Iran, Somalia, Sudan, Libya, Syria, and Yemen) from entering the U.S. for 90 days, and suspended entry of all refugees entering the U.S. for 120 days. The new ban removed Iraq from the list, exempted green card and visa holders, and toned down "contentious language referring to religious minorities."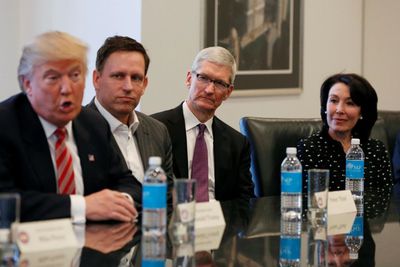 On Tuesday, a new legal brief was filed in a Hawaiian court on behalf of 58 total Silicon Valley companies voicing support for the state's blocking of Trump's order, down from 127 companies on the first brief. A few companies mentioned on the new opposition brief include Kickstarter, Airbnb, and Dropbox. Although the current list is small, hope for the lawsuit to succeed is growing, and New York lawyer Robert Atkins -- who co-authored the new brief -- said "we do expect the group to expand."

Apple Inc, Alphabet Inc's Google and Facebook Inc are among more than 60 technology companies that appear to have backed away from the legal fight against U.S. President Donald Trump's controversial travel ban, deciding not to put their weight behind a lawsuit seeking to block the second version of his executive order.

A legal brief filed in federal court in Hawaii on Tuesday on behalf of Silicon Valley companies listed the support of 58 companies, less than half the 127 signatories to a similar brief filed in an appeals court last month after Trump's first executive order banning travel from a number of countries the administration said posed a security risk.

It was not immediately clear why fewer of them signed on to the "friend-of-the-court" brief this time around.
Apple was a large part of the opposition to the travel ban last month, helping pen an open letter to Trump explaining that the U.S. is a "nation made stronger by immigrants," while Apple CEO Tim Cook said that it "is not a policy we support." Trump himself said he plans to appeal against the federal judge's halting of his revised order and take the case "as far as it needs to go," including the Supreme Court.
Note: Due to the political nature of the discussion regarding this topic, the discussion thread is located in our Politics, Religion, Social Issues forum. All forum members and site visitors are welcome to read and follow the thread, but posting is limited to forum members with at least 100 posts.