Apple Opening Three New Stores Next Saturday, Including First in Downtown Miami
Apple today announced that its all-new retail store at the new Brickell City Centre shopping mall in Miami opens on Saturday, March 25 at 10:00 a.m. local time. Apple has four existing stores in the Miami area, but this will be the first to be located in the city's thriving downtown core.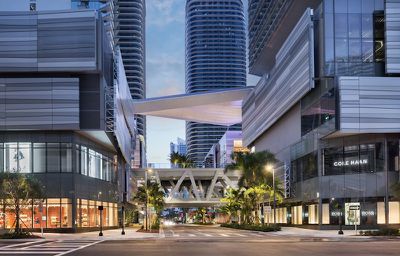 Apple Brickell City Centre will be one of three Apple retail stores to open on that day alongside new locations at Schildergasse in Cologne, Germany and Jinmao Place in Nanjing, China, which also open at 10:00 a.m. local time respectively. All three are brand new stores, not renovated or relocated ones.
Brickell City Centre is a new shopping and mixed-use development in Miami's financial district. Apple's plans to open a retail store there were revealed in February 2016, and construction began shortly afterwards. The location is expected to be one of Apple's largest retail stores in Florida.
Apple continues to renovate and expand a number of its stores across the United States with a new design introduced in 2015, including its relocated St. Johns Town Center store that opened March 11 in Jacksonville, Florida. Apple's Woodland Mall store in Grand Rapids, Michigan is next on the docket.
The newer look often includes wider open spaces with some combination of large glass doors, touch-sensitive sequoia wood tables and shelves, seating areas for community events, large 6K resolution video screens for product marketing, indoor trees, and light boxes extending the length of the ceiling.
Elsewhere in the United States, Apple's expanded Pentagon City store in the Washington D.C. area reopened on March 4, while its Danbury, Connecticut store location closed for renovations in early February.