Apple has announced that its retail store at the Fashion Centre at Pentagon City shopping mall in Arlington, Virginia reopens on Saturday, March 4 at 10:00 a.m. local time. The store, which originally opened in August 2005, has been closed for renovations since September 25 of last year.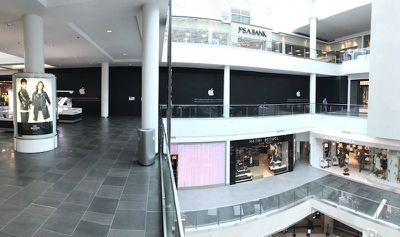 Apple Pentagon City has expanded into adjacent storefronts (Image: Jordan Sheckman)
Apple Pentagon City will be the iPhone maker's latest retail store to be updated with its next-generation design introduced in 2015.
The newer look often includes wide, open spaces with some combination of indoor trees, large glass doors, touch-sensitive sequoia wood tables and shelves, seating areas for community events, large 6K resolution video screens for product marketing, and light boxes extending the length of the ceiling.