Apple has announced that its relocated St. Johns Town Center store in Jacksonville, Florida opens Saturday, March 11 at 10:00 a.m. local time. The next-generation store will be located at 4835 River City Drive, just down the street from its current store at 4712 River City Drive in the open-air shopping complex.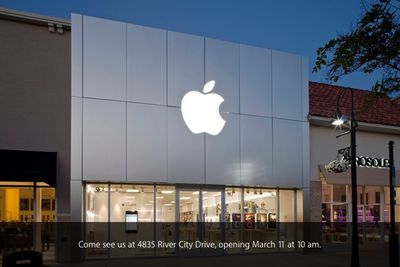 Apple's existing St. Johns Town Center store opened in March 2005
Apple's new 9,100-square-foot store is situated between Tesla and Tory Burch stores near the southeast end of the Town Center. The space, which was
vacated by Forever 21
last year, is over twice as large as its current store, which opened in March 2005. The older location will likely close by Saturday.
Elsewhere, Apple plans to double the size of its Woodland Mall store in Grand Rapids, Michigan to 8,000 square feet, according to MLive. And in China, a store with a beautiful staircase is set to open at Jinmao Place in Nanjing in the near future. Apple has yet to announce an official grand opening date.
(Thanks, Larry!)