Jonathan Blow's console and PC puzzle game The Witness has launched on the Mac App Store a little over a year after first debuting on PS4 and Windows PCs. Like other platforms, the game costs $39.99 [Direct Link] and tasks players with deciphering hundreds of puzzles set on a mysterious island.
Since its release early last year the game has received critical acclaim for its puzzle design, graphics, and secrets-filled backstory. The macOS version ports the same game and experience over to Apple computers running macOS 10.11.6 or later with 4GB of RAM and 5GB available storage space. The game also requires Apple's new Metal graphics technology to run.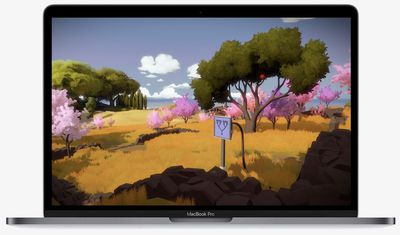 You wake up, alone, on a strange island full of puzzles that will challenge and surprise you.

You don't remember who you are, and you don't remember how you got here, but there's one thing you can do: explore the island in hope of discovering clues, regaining your memory, and somehow finding your way home.

The Witness is a single-player game in an open world with dozens of locations to explore and over 500 puzzles. This game respects you as an intelligent player and it treats your time as precious. There's no filler; each of those puzzles brings its own new idea into the mix. So, this is a game full of ideas.
An iOS port of the game has long been in development, and a few developers at Thekla -- the game's creators -- mentioned in passing recently that the game is still being worked on for iOS, but a launch date is unspecified. Since The Witness is so graphically intensive, the iOS port will require a longer gestation to pare down the visuals in order to run properly on Apple's smartphones and tablets.
The Witness
is available today for $39.99 on the Mac App Store [
Direct Link
]. A Mac version of the game on Steam is also said to be
coming in the next few weeks
.