The Nintendo Switch launches worldwide tomorrow, March 3, and as journalists and reviewers have had their hands on the console for the past week, news of its hardware and software features have been shared online.
This week, Quartz technology reporter Mike Murphy discovered that when plugging the Nintendo Switch into a MacBook Pro through a dual USB-C cable, the Switch inexplicably acts as an external battery pack for the Apple laptop, providing charge to the MacBook instead of being charged itself. In the image, it appears that a third party USB-C cable is being used to connect the two devices (in the box, Switch only comes with a USB-C to AC adapter cable).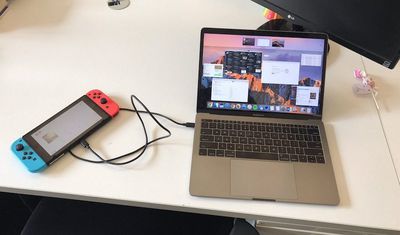 Murphy also discovered a slight workaround: if users power down the Switch before connecting it to the MacBook, then the
MacBook will charge the Switch
. The Switch will also
charge off of Apple's USB-C wall adapter cable
bundled in recent MacBook boxes, and
sold separately online
.
Nintendo confirmed on its website that the Switch has a non-removable 4310mAh, 3.7V Lithium-ion battery, and early FCC filings -- as well as recent pictures -- of the included AC adapter confirmed that the console draws power up to 15.0V/2.6A, equating to 39W. The non-Touch Bar MacBook Pro has a 54.5-watt-hour lithium-polymer battery and can draw up to 61W from a power adapter.
Since much of Nintendo Switch's battery-related questions are still up in the air in the time before launch, it remains unclear why the console would not automatically leech charge off the larger MacBook Pro. As game designer Bennett Foddy pointed out on Twitter, the connection between the Switch and MacBook Pro isn't inherently buggy or wrong, but it's easy to think that the MacBook Pro (battery life ~10 hours) would naturally provide power to the Switch (battery life 2.5-6.5 hours), like it does to iPhones and iPads.
In related Nintendo Switch and Apple news, Nintendo today launched its Nintendo Switch Parental Control app for iOS devices on the App Store [Direct Link]. The app will let parents remotely control the content of the games their kids play, as well as for how long, and even be able to restrict certain ESRB ratings and online features.