iOS 10 Now Installed on Nearly 80% of Active iOS Devices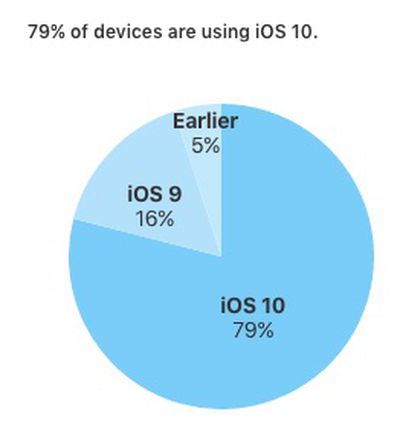 Just over five months after iOS 10 was released to the public, the operating system is now installed on 79% of active iOS devices, according to the latest adoption data shared by Apple.
iOS 9 remains installed on 16% of active iPhone, iPad, and iPod touch devices, while 5% of devices are running an earlier iOS version, as measured by the App Store on February 20.
iOS 10 adoption appears to be slightly outpacing iOS 9 adoption over the same time period. iOS 9 adoption briefly stalled at 77% of active devices last February.
iOS 10 could see further adoption when iOS 10.3, which is currently in beta for developers and public testers, is officially released. The software update's key new features include "Find My AirPods" and a switch to the all-new Apple File System (APFS).
iOS adoption continues to significantly outpace Android. Nougat, the latest version of Android, is installed on just 1.2% of active Android devices as of February 6, despite being released six months ago today. Android Lollipop, released in November 2014, is still installed on 32.9% of active devices.
Apple's control over both hardware and software gives it an advantage over the Android ecosystem, while Apple persistently notifies iPhone, iPad, and iPod touch users to update to the latest iOS version, including offering the option to have the software update install overnight while the device is plugged in.