What's New in iOS 10.3: Find My AirPods, APFS File System, New Apple ID Setting and More
Released to developers this morning, iOS 10.3 is the third major update to the iOS 10 operating system. Its main feature is a new "Find My AirPods" mode for locating lost AirPods, but the update also includes many other smaller changes and feature tweaks.
There's a new profile option in the Settings app, iCloud usage is broken down more clearly, SiriKit has been updated to include bill paying functionality, and there's a new file system implemented when first installing iOS 10.3. Check out the video below for a quick rundown on all the new features introduced in iOS 10.3, and make sure to read the rest of the post for even more detail.
App animation
- Apple has tweaked the animation for opening and closing apps very slightly. As they open, apps now have more rounded edges, a difference that's noticeable on apps that open slowly.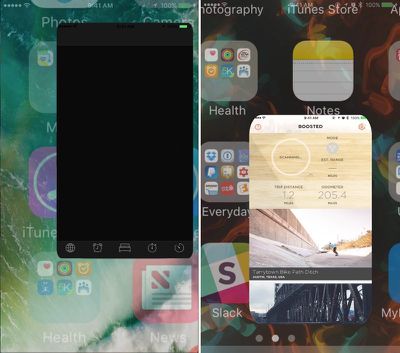 Old animation on left, new animation on right
App switching
using Command + Tab on an external keyboard is also faster.
Apple ID Settings profile - There's a new "Apple ID" profile option that's displayed at the top of the Settings app. It shows all Apple ID info, including all devices you're signed into, and it has links to iCloud, iTunes & App Store, and Family Sharing. All of these options used to be listed under an "iCloud" setting.


iCloud storage breakdown - In the iCloud section of the new Apple ID Settings feature, there's a visual breakdown of how iCloud storage space is being used. It's more immediately clear how much space photos or iCloud backups are using. Tapping on the new storage option opens the standard iCloud management options. This section also lists all apps that use iCloud and includes the settings for Keychain, Find My iPhone, and iCloud Backup.


Find My AirPods - Find My AirPods is a new option available in the "Find My iPhone" app. It keeps track of the last known location where AirPods were connected to an iOS device over Bluetooth, making a misplaced AirPod easier to find. It also allows users to play a sound to locate a lost AirPod. It does not work when the AirPods are in the case and its functionality is somewhat limited because AirPods have no connection of their own.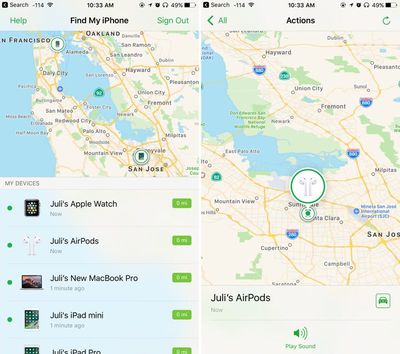 SiriKit - SiriKit, the iOS 10 feature that lets third-party apps access Siri, is being updated with new features that will let Siri be used to pay bills, check on the status of payments, and schedule future rides from services like Uber.
CarPlay - CarPlay has been updated with shortcuts for launching the most recently used apps and the location of EV charging stations.
Maps - In the Maps app, there's now an option to 3D Touch on the weather icon to see a weather forecast and other weather-related details for your current location.
HomeKit - HomeKit has gained support for programmable light switches.
Apple File System - When installing iOS 10.3, the iPhone's file system will be updated to use Apple File System (APFS). Apple recommends making a backup before downloading the new update. Announced at WWDC last year, APFS is optimized for Flash/SSD storage and includes features like strong encryption, space sharing, copy-on write metadata, cloning for files and directories, snapshots, and more.
App icons (developer) - Developers will be able to update the icons for their apps at any time, with an update no longer required to push out new icon artwork.
Analytics - The "Diagnostics and Usage" option in the Privacy section of the Settings app has been renamed to "Analytics" in iOS 10.3. It continues to allow users to decide whether or not to send usage information to Apple to help the company improve its services. There's also a new "Share iCloud Analytics" section that allows analytics of usage and data from an iCloud account. Apple uses differential privacy to protect user information.


iPad keyboard - Hidden in iOS 10.3 is a setting for a one-handed floating iPad keyboard layout that can be used on a 9.7-inch or smaller iPad. The feature, discovered by developer Steve Troughton-Smith, is not currently available.


iOS 10.3 is currently only available for developers, but Apple will likely release a public beta for public beta testers in the near future. iOS 10.3 will likely remain in testing for a couple months before it sees a public release, so it could launch in March or April.