Apple Purchases iCloud.Net Domain, Shuts Down 'iCloud Social Network' Site
Apple recently purchased the iCloud.net domain, one of the last major iCloud-related web addresses that wasn't in its possession, reports TechCrunch.
The iCloud.net domain, which now appears to be registered to Apple, was the home of the "iCloud Social Network," a dubious-looking social networking platform designed to allow people to share activities, pictures, music, videos, and other content.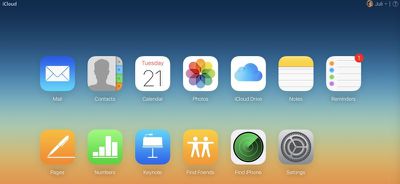 It's not clear how many users iCloud.net had before Apple purchased the domain, but the site now states that the iCloud.net services will be shut down at the end of February 2017, and data will be destroyed in March. It has apparently existed since 2011, and in a blog post, the site's owner said "iCloud.net finished his mission, it is time for him to retire."
MacRumors received a tip suggesting Apple had purchased the domain for $1.5 million, but we have been unable to verify the information. The price Apple paid for iCloud.net is unknown and the company declined to comment on the purchase when contacted by TechCrunch.
Back in 2011, ahead of the launch of the iCloud service, Apple purchased the iCloud.com domain name from Swedish company Xcerion, shelling out approximately $5.2 million. Apple also possesses upwards of 100 iCloud domains, ranging from iCloud.us and iCloud.eu to iCloudApps.com and iCloudAds.com.
It's not clear why Apple waited more than five years to acquire the iCloud.net domain, and it likely was just done as a measure to make sure the company owned all of the iCloud-related domains, but TechCrunch speculates that the purchase may have been made due to ongoing work on a social networking app that Apple is rumored to have in development.
While the rumored app may not use iCloud branding, the existence of an Apple social network could have been confused with an iCloud.net social network, an ambiguity Apple may have wanted to resolve with the purchase of the iCloud.net domain.