Apple Tops Ranking of 'World's Most Admired Companies' for Ninth Year
Apple has been awarded the top spot on Fortune's list of the "World's Most Admired Companies," marking the ninth consecutive win for the Cupertino-based company on the list. After Apple, Alphabet (Google's parent company), Amazon, Berkshire Hathaway, and Walt Disney round out the top five spots.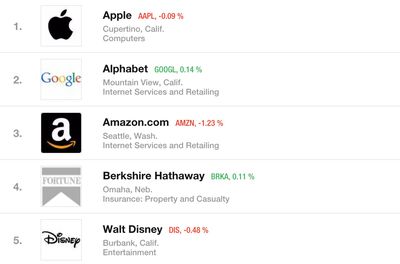 There's a new AAA standard in corporate America: the one-two three punch of Apple, Alphabet, and Amazon. For the fourth time, our list of the World's Most Admired Companies Top 50 All-Stars is led by a trio of tech giants under 40 years old. They preside over a class of blue chips and even younger tech stalwarts, such as Facebook (No. 14), Salesforce (No. 34), and Netflix, which makes a return to the Top 50 at an impressive No. 19. They also are joined by newcomers Visa and Publix, which make debuts at Nos. 47 and 49.

The list was whittled down from a collection of the 1,000 largest U.S. companies ranked by revenue, along with 500 non-United States companies with revenue reaching, or exceeding, $10 billion. Fortune's survey partners at Korn Ferry Hay Group then interviewed executives, directors, and analysts to rate the companies within their own industry on nine criteria, including investment value and social responsibility.
Apple got a score of 8.6, beating out Alphabet's second place marking of 8.2. Notably, the iPhone maker also came in first in all of the nine key attributes of reputation, unlike in years past where a few other companies edged it out in topics like global competitiveness. Other prominent companies on the list include Facebook (14th), Microsoft (17th), Netflix (19th), and AT&T (48th).
To see the full ranking of the World's Most Admired Companies, visit Fortune's website.