Apple's spaceship-shaped campus in Cupertino, California has been under construction for several years and is one of the most expensive, ambitious buildings in the United States.
While Apple has been hard at work putting the finishing touches on the campus, which is slated to open later this year, Minecraft player Alex Westerlund has been building a Minecraft version of Apple's second campus.
According to Westerlund, building the campus in Minecraft took him 232 hours over the course of a year. He used construction plans along with topographical maps to create an accurate rendition of the campus, down to the land it's built on.
As can be seen in the video, the ring-shaped main building has been faithfully recreated, with its curved glass windows, massive doors, solar panels, window awnings, and more. Westerlund says the main building is "absolutely massive" at 469 blocks across, with every hill, path, and orchard placed according to construction plans.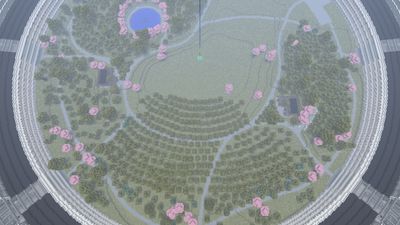 The courtyard of the building includes trails, two cafes, a cafeteria patio, cherry trees, a fitness center, and a fountain, while the interior features atriums and a huge cafeteria built to match a publicly released rendering.
Apple's real second campus is nearing completion. According to the latest drone video, construction crews are hard at work on landscaping and are wrapping up work on solar panels and a nearby research and development facility. The campus is expected to be finished in 2017, but exactly when employees will move in remains unclear.
Westerlund tells MacRumors that as Apple continues work on its campus, he'll continue to flesh out his virtual version, putting in up to four hours of active building time per day.