BeatsX Officially Launching February 10, Two New Colors Coming After Launch
BeatsX Earphones will launch this Friday, February 10, with Beats By Dre announcing the official date this morning on Twitter. Yesterday, rumors of an imminent launch of BeatsX began circulating following increased activity on Apple's and Best Buy's online listings for the earphones.
In December, Apple updated its BeatsX listing with a vague February launch window, but up until today we had yet to receive a more solid day on which the earphones would launch. In addition to the confirmed launch date, CNET has also reported that two additional colors of BeatsX are coming after launch: gray and blue. When they debut, users will be able to choose from white or black.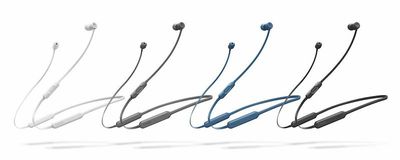 Yesterday, February 10 was a date pinned by French reseller Fnac, while other resellers -- like Fry's Electronics -- looked towards a launch later in the month, on February 20. BeatsX include Apple's custom W1 chip for fast device connecting via Bluetooth, enabling users to pair them by simply powering them on and holding them near an iPhone. The major difference with Apple's AirPods is the flex-form cable that connects each BeatsX bud to one another.