Apple Hires Amazon Fire TV Head to Spearhead Apple TV Business
Apple has hired Timothy D. Twerdahl, the general manager and director of Amazon's Fire TV business, to be the vice president in charge of Apple TV product marketing, reports Bloomberg. Twerdahl joined Apple earlier this month.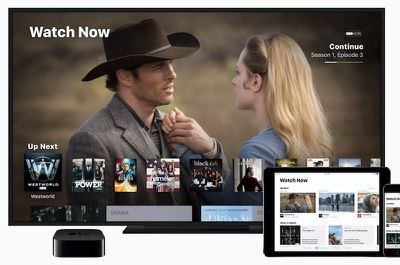 Twerdahl has been in charge of Fire TV since 2013, overseeing two generations of the product and its rise as one of the more popular internet-connected set-top boxes. At Apple, Twerdahl will report to Greg Joswiak, VP of iOS and iPhone Product Marketing.
The move will allow Pete Distad, the former head of Apple TV product marketing, to concentrate on helping Apple land content deals, which are headed by Eddy Cue. Before joining Apple in 2013, Distad was senior vice president of content distribution at Hulu.
Having Distad join content negotiations is intended to shore up content for Apple TV, according to Bloomberg, as efforts to secure exclusive content deals for Apple TV have stalled in the past due to failed negotiations.
With the fourth-generation Apple TV, Apple was originally aiming to provide a full a la carte television service that could replace traditional cable and satellite packages, similar to Sony's PlayStation Vue service. However, Apple unsurprisingly saw pushback from both content and cable companies after using negotiating tactics described as "assertive" and "hard-nosed," declining to back down from the terms the company wanted. Apple scaled back its TV ambitions in the past couple of years, though it considered both a slimmed-down subscription service and purchasing Time Warner.
In addition to leading product marketing for the Fire TV, Twerdahl was also the senior director of internet TV at Netflix and a vice president of consumer devices at Roku, according to his LinkedIn.