Hands-On With the New Night Shift Mode in macOS Sierra 10.12.4
macOS Sierra 10.12.4, seeded to developers this morning, introduces a major new feature: Night Shift for the Mac.
First introduced for iOS devices in iOS 9.3, Night Shift is designed to gradually shift the display of a device from a blue tint to a more yellow tint during the evening, cutting down on exposure to blue light. A quick overview of how Night Shift works on the Mac can be seen in the video below.
Night Shift can be toggled on and off using the new Night Shift switch located in the Today section of the Notification Center.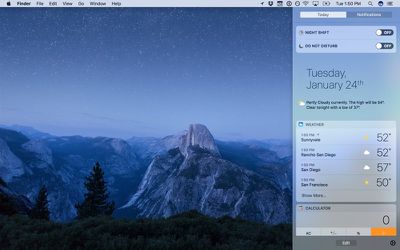 Preferences for Night Shift are available in the Displays section of System Preferences. In this section, users can schedule Night Shift to come on at sunset and turn off at sunrise or set a custom Night Shift schedule. There's also a manual toggle and an option to change the color temperature of the display.


Night Shift-style functionality has previously been available on Macs through the popular and well-known f.lux software, but it will be a built-in feature in macOS Sierra in 10.12.4, eliminating the need for a third-party app. F.lux continues to offer a bit more customization, however, with the option to turn it off on a per-app basis.
macOS Sierra 10.12.4 is only available to developers at the current time, but it should be made available to public beta testers in the near future. It will likely be beta tested for at least a month or two prior to release, so expect to see the update in March or April.