iOS 10.3 Beta Includes New 'Find My AirPods' Mode for Locating Lost AirPods
Apple's AirPods are wire-free, which makes them convenient to use, but it's also caused some concern from users who are afraid to lose their $159 earphones. In its latest beta, Apple has introduced a new feature to assuage customer fears - Find My AirPods.
Available in iOS 10.3, Find My AirPods adds your AirPods to the "Find My iPhone" app, listing them alongside all other Apple products. In the app, you can tap on the AirPods to cause them to play a little chirping sound that gradually gets louder for location purposes.
After activating the sound, you can choose to have it play solely through the left AirPod or through the right AirPod so you don't need to listen to chirping if only one of the AirPods is missing.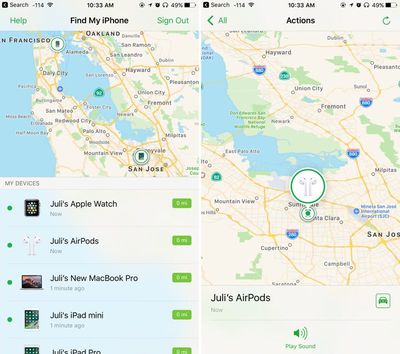 The location of the AirPods is displayed on the iPhone's screen. The AirPods rely on the iPhone's GPS to display a location (or another iOS device) and will offer up the last known place where the AirPods were connected should the AirPods be misplaced.
Find My AirPods isn't a perfect solution because the AirPods have no built in cellular connectivity of their own, but with the ability to see the last known location, AirPods owners can at least go to that spot to attempt to reconnect, and the included sound capabilities help narrow down a location.
Find My AirPods is activated automatically when iOS 10.3 is installed. AirPods show up in the menu as soon as they're connected to an iOS device. iOS 10.3 is currently limited to developers, but a public beta should be available in the near future.