Tesla-Bound Chris Lattner May Have 'Felt Constrained' by Apple's Culture of Secrecy [Update: Denied]
Earlier this week, Swift creator and LLVM co-author Chris Lattner announced he will be leaving Apple later this month—he is headed to Tesla to lead its autopilot engineering team as Vice President of Autopilot Software.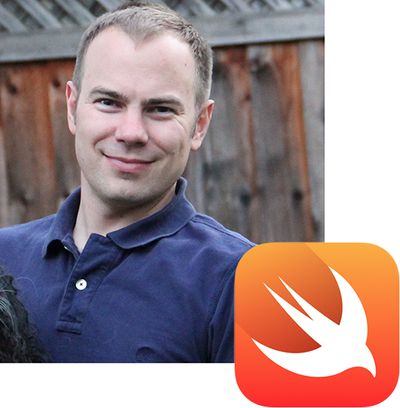 Lattner, who oversaw Xcode among other tasks as director of Apple's Development Tools department, did not provide an explanation for his decision to leave the company, but "someone in Lattner's circle of developer friends" told Business Insider that Apple's culture of secrecy may have been a contributing factor.
"He always felt constrained at Apple in terms of what he could discuss publicly — resorting to off-the-record chats, surprise presentations, and the like," the person told us. "Similarly, I know he was constrained in recruiting and other areas. Eventually I know that can really wear people down."
Lattner, who joined Apple in 2005, did not respond to the publication's requests for comment, so the exact reason for his decision remains uncertain. He previously said the decision "wasn't made lightly," and that he plans to remain an active member of the Swift Core Team despite his departure.
What we do know is that Swift now has a large community of developers working on the programming language since it became open source in late 2015, so it is very possible that Lattner felt he was in a good position to pursue a new opportunity without jeopardizing future development of the language he created in 2010.
Swift, designed to work with Apple's Cocoa and Cocoa Touch frameworks, was developed for iOS, macOS, watchOS, tvOS, and Linux. The programming language was introduced at WWDC 2014 and is viewed as an alternative to Objective-C. Lattner said Apple's development of Swift will continue under Ted Kremenek.
Update: Lattner has shared an additional comment about Kremenek as spotted by Daring Fireball:
One thing that I don't think is fully appreciated by the community: Ted has been one of the quiet but incredible masterminds behind Swift (and Clang, and the Clang Static Analyzer) for many years. His approach and modesty has led many to misunderstand the fact that he has actually been running the Swift team for quite some time (misattributing it to me). While I'm super happy to continue to participate in the ongoing evolution and design of Swift, I'm clearly outmatched by the members of the Apple Swift team, and by Ted's leadership of the team. This is the time for me to graciously hand things over to folks who are far more qualified than me. Swift has an incredible future ahead of it, and I'm really thrilled to be small part of the force that helps guide its direction going forward.
Update 2: Lattner has since tweeted that his decision has "nothing to do with 'openness'," while noting the "friend" cited in the report is "either fabricated or speculating."