New Video Pits iPhone Click Wheel Prototype Against Scott Forstall's Icon-Based iPhone Prototype
A couple days ago Sonny Dickson shared a look at one of two early prototypes for the original iPhone, the iPod Click Wheel-based OS that iPod "Godfather" Tony Fadell was working on. Tonight, Dickson has shared a video pitting Fadell's version against Scott Forstall's icon-based iPhone prototype, which went on to become the basis for iOS.
Fadell's prototype was referred to as P1 while Forstall's prototype was referred to as P2. The two projects reportedly
went head to head
in 2005 when Steve Jobs pitted the two against each other. While the P1 used the click-wheel interface to navigate the OS, the P2 used a series of touch-based icons to move around the OS.
Both P1 and P2 run a prototype OS Apple codenamed "Acorn OS" internally, though Dickson notes that P1 runs faster because it uses a slimmed down version of Acorn OS. Each prototype also sports a unique logo that pops up after the Acorn OS logo while it boots up.

The P2 loads octopus whereas the P1 has the iPod classic logo. The P2 takes a significantly longer to load because it actually has a real OS, whereas the P1 takes much less time since the OS is slimmer. These P unit prototypes are so early in the development process that they rely on a custom process to be turned off, and can only be powered down during a certain step of the boot process.
The video, and accompanying photos, provide both a look at the choice Steve Jobs and Apple employees faced as they were developing the iPhone and iOS 10 years ago and how Apple explores ideas. As Dickson notes, "P devices" are the first step of any project at Apple. They're barely-functioning devices that allow the company to explore and test concepts, iterating on them until they're satisfied enough to push the project further.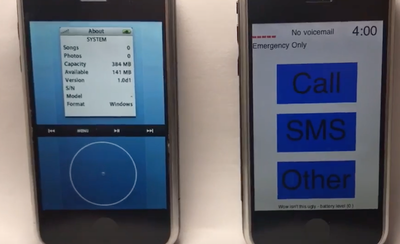 More images of the P2 iPhone prototype are available on Sonny Dickson's website.