Elago's W3 Stand for Apple Watch can turn Apple's modern wearable device into a classic Macintosh, all while charging and protecting the Apple Watch. The Nightstand Mode-only accessory has a slot for the Apple Watch's charging puck and a small compartment that you slide the Apple Watch into, turning its 38mm or 42mm display into that of a retro Mac. The dock was originally announced last November, but is just now gaining attention online.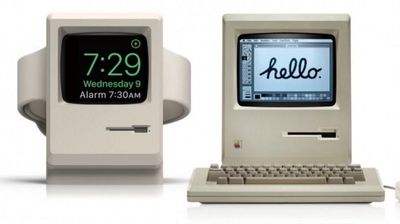 To prevent scratching on the Apple Watch's casing, band, and screen, the entire W3 dock is made of soft silicone, also making it easy to place and remove the Watch. The image used on Elago's website appears to use the Stone Sport Band on the Apple Watch, which is now unavailable on Apple.com. Any band and case combination will work on the dock, however.


Those interested can purchase the W3 Stand from Elago's website for $13.49, as well as on Amazon for $11.99. An alternate black version is also available.