Today at CES Sleep Number announced the technological follow-up to its iPhone-connected "IT" smart bed from last year. The new bed is the Sleep Number 360, a self-adjusting smart bed that can warm your feet, adjust to your snoring and more.
The bed, which uses Sleep Number's SleepIQ technology, has four new signature features. The bed can self-adjust throughout the night, matching the sleep movements of the sleeper. For instance, if someone switches from sleeping on their side to sleeping on their stomach, the bed will adjust comfort in real time. The bed can also sense when a sleeper is snoring and gently adjusts the sleeper so that they're in a position that will lessen snoring.
Snore adjustment is temporary, and the feature only works with mild snoring in otherwise healthy adults, according to Sleep Number. The feature adjusts the bed based on the sleeper's sleeping position. For instance, if the snorer is on their back the bed will raise their head slightly.
The 360 also comes foot-warming technology. Because the bed knows the sleeper's bedtime routine via the SleepIQ app, it can warm up the foot of the bed to be toasty when the sleeper is ready to go to sleep. The company claims that research shows that people fall asleep faster when their feet are warmer than normal.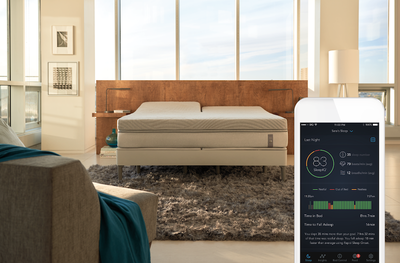 Finally, the bed has a smart alarm that'll deliver a wake-up call at the optimal moment. Sleepers can set an alarm window via the SleepIQ app, and the bed, within that window, will deliver an alarm when the sleeper is in their lightest sleep.
The SleepIQ app can also connect the bed to external services and products like Fitbits and Nest Thermostats. It can combine this data to let users know how fitness is impacting their sleep habits and when let the sleeper know what temperature is best for them to fall asleep.
The Sleep Number 360 will rollout in phases throughout 2017. Sleep Number did not announce official pricing for the new beds, but said that it would be priced similar to current mattresses. Sleep Number's current mattresses range from $800 to $7,099 for queen sizes.
The SleepIQ app is available for free in the App Store [Direct Link]