Sketchy Video Shows What 'Jet White' iPhone 7 and 7 Plus Might Look Like
Back in November, a report from Japanese site Mac Otakara suggested Apple would add a sixth "Jet White" color option to its iPhone 7 lineup, and while no Jet White iPhone has surfaced as of yet, a video making the rounds tonight hints at what a Jet White iPhone might look like if Apple does indeed release such a device.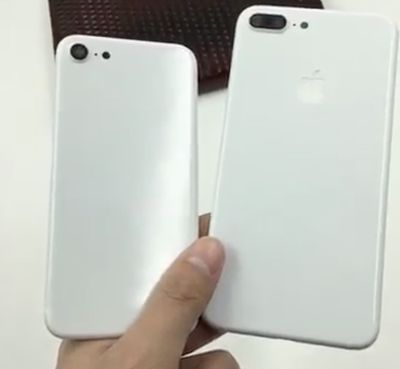 The video, shared by Sonny Dickson, appears to depict an iPhone 7 and an iPhone 7 Plus, both with white casings. While the iPhone 7 Plus features an Apple logo, the iPhone 7 model does not, suggesting it is very likely fake.
Similar iPhone 7 and 7 Plus casing replacements can be found on various auction sites like Alibaba, so it seems the iPhones in the video are sporting third-party shells rather than representing actual forthcoming iPhone models.
Should Apple decide to release a glossy white color option to sell alongside the glossy Jet Black iPhone 7 and 7 Plus, both of which have proven to be highly popular with customers, it could potentially look something like the shells of the devices in the video.
Mac Otakara did not indicate when Apple might release its white iPhone 7, and suggested the information, obtained from supply chain sources, could be "unreliable," so it continues to be unclear if and when we will see actual "Jet White" iPhone 7 and iPhone 7 Plus models.