The Spotify Mac app was recently updated with support for the Touch Bar on the new MacBook Pro. Now, when Spotify is open users will be able to search, shuffle and repeat tracks, use traditional play/pause/skip controls, and adjust the app's volume. When in the background, the Touch Bar will update with a Spotify playback scrubbing tool as well as play and pause buttons similar to iTunes.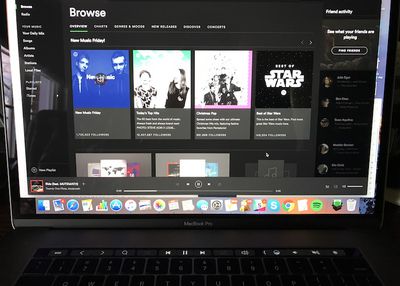 Users have discovered that auto-pause on connected AirPods works as well, so when one AirPod is removed from the ear while a song on Spotify is playing, the track will automatically stop. Just like with iTunes and Apple Music, when placed back within the ear, Spotify's music will resume automatically. Automatic resuming of music doesn't work when both AirPods are taken out, or when users are only using one AirPod to begin with.
With many Spotify users on the new MacBook Pro, the addition of Touch Bar support should make listening to the streaming music service a more integrated experience with Apple's laptop. Many users are still waiting for Spotify to announce support for other Apple devices, including apps for the Apple Watch and fourth-generation Apple TV. Neither platform is expected to be supported by the company 'anytime soon.'


For those who want to gain the most out of music listening on Apple's products, Apple Music has been the streaming service of choice. Spotify is still the industry leader with 40 million subscribers as of September 2016, but Apple Music is gaining ground on its rival with a reported 20 million paid subscribers now listening to the service.