Shortage of OLED-Making Machines Could Potentially Impact Production of 2017 iPhone
Amid rumors suggesting Apple is planning on introducing at least one iPhone model with a flexible OLED display in 2017, Bloomberg has taken a closer look at Japanese company Canon Tokki, the corporation responsible for making the machines that will likely be used to create OLED displays for the iPhone.
Canon Tokki is said to produce nearly all of the machines that make OLED Displays. Each ELVESS OLED machine is actually a vacuum production system that's 328 feet in length and is used to deposit red, blue, and green pixels on a glass surface using evaporating organic materials.
Canon Tokki has developed key technologies for the production process that have significantly reduced the margin of error, leading to much higher yields that other companies can't compete with.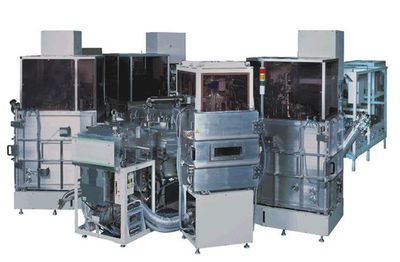 According to Bloomberg, Canon Tokki reportedly makes fewer than 10 machines per year and has a two-year backlog due to high-demand, but it is not clear if this will have an impact on Apple. Apple is rumored to be using OLED displays produced by Samsung, and much of the equipment may already be on hand.
Samsung's own line of smartphones have used OLED displays for several years, but Blooomberg does warn that Samsung may not be able to make enough OLED displays to meet Apple's demand due to low yield rates.
The potential production bottleneck is raising questions over Apple's ability to feature OLED displays in next year's iPhones, and whether the Cupertino, California-based company will be able to line up additional suppliers. The current wait for a machine, which can cost more than 10 billion yen ($85 million) each, is about two years.

"We are doing all we can to increase output and make that wait shorter," said Chief Executive Officer Teruhisa Tsugami, adding that demand from display makers, including Samsung Display Co., LG Display Co. and Sharp Corp., will remain strong for the next three years.
OLED displays offer superior contrast and better power efficiency for improved battery life compared to traditional LCDs. OLED displays can also be made from flexible plastic and can be made much thinner.
According to rumors, Apple will release at least one iPhone model that uses an OLED display in 2017, but rumors have disagreed on what the display will look like. While some rumors suggest the iPhone 8 will use a curved OLED display that wraps around the edges of the device (similar to the Galaxy S7 Edge), others point towards less dramatic curves, suggesting a flat OLED display that eliminates all bezels for an edge-to-edge design.