A new ranking by Bloomberg today has listed "The World's Best-Value CEOs" in order of how well their yearly salaries align with their performance at each company. In total, 100 CEOs of companies from around the world -- including Apple, Alphabet, Verizon, and China Mobile -- were placed in the ranking to determine which organizations "are getting the best value from their CEO."
According to the list, Apple has the eleventh-most-valuable CEO with Tim Cook, whose latest reported pay of around $10.3 million is "a bargain" when compared to Apple's three-year average economic profit of $22.6 billion. Cook's pay is broken down into a salary of $2 million, non-equity incentive plan of $8 million, and "other" compensation of $281,327. Not part of his base salary, Cook netted over 1.2 million Apple shares worth over $130 million upon reaching his fifth anniversary as CEO on August 24, 2011.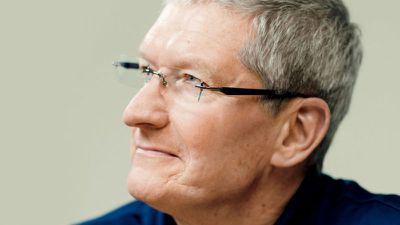 Cook's lower compensation in comparison to other CEOs, along with his performance at Apple, have earned him the spot near the top of Bloomberg's chart. The rankings included companies with market capitalizations of $1 billion or higher, and each CEO had to have served three or more fiscal years to be considered.
Are chief executive officers worth their pay? Apple CEO Tim Cook's $10 million in compensation isn't chump change, but it's a bargain when you compare that to the company's massive average economic profit over the last three years. Other companies pay their CEOs much more, but seem to get a lot less for it. Bloomberg looked at the pay-for-performance ratio of 100 CEOs at some of the largest companies around the world to see which companies are getting the best value from their CEO.
In the number one spot is Kosta Kartsotis of Fossil Group, who has waived compensation completely on an average three-year economic profit of $147 million for the company. Alphabet's Larry Page is in 3rd, Verizon Communication's Lowell McAdam is in 14th, and AT&T's Randall Stephenson is in 65th. Check out Bloomberg's full rankings of The World's Best-Value CEOs right here.