German developers The Soulmen today released a new version of popular writing app Ulysses, bringing Touch Bar support, Tabs in macOS Sierra, and a host of other new features and performance improvements.
From Wednesday, users launching version 2.7 of the award-winning app on Touch Bar equipped MacBook Pros will see new contextual functions for Ulysses in the OLED strip, bringing the ability to assign markup tags directly while they write.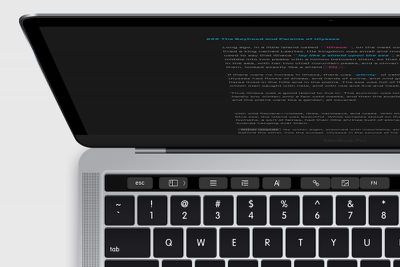 Ulysses 2.7 now also includes tabbed windows in macOS Sierra, making it possible to switch between multiple open texts within the same window.
Elsewhere, Ulysses now offers full support for the TextBundle format outside its iCloud library. TextBundle combines Markdown text and all referenced images into a single file for convenience, and Ulysses now allows writers to use images when working from Dropbox or other storage providers.
The latest update also makes it easier to switch from Evernote to Ulysses, by allowing users to import ENEX Evernote export files containing multiple notes, upon which individual sheets are created for each note.
In addition, a new Reading Time writing goal has been added to the existing options (number of characters, words, or pages), while a number of more general improvements, bug fixes, and stability enhancements have also been implemented in the latest version of the app.
Ulysses 2.7 is available for MacOS and iOS on the Mac App Store and App Store respectively, and is a free update for existing users. The Mac app costs $44.99, while the universal iOS app costs $24.99.