macOS 10.12.2 Fixes Time Machine Backup Crashing Issue on New MacBook Pro
Apple in the latest macOS Sierra beta appears to have fixed a common issue where transferring files to an external hard drive or SSD connected to a Thunderbolt 3 port caused the new MacBook Pro to crash for some users.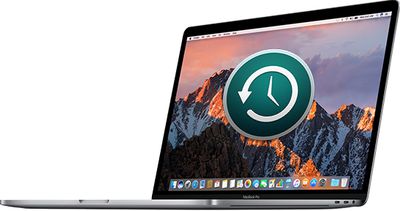 MacRumors forum member Dave Miles claims he received an email response from Apple's software engineering chief Craig Federighi, who apologized for the inconvenience and confirmed the issue has been fixed in the fifth macOS 10.12.2 beta seeded to developers and public testers on Monday.
While we have not been able to verify the authenticity of the email beyond a reasonable doubt, the issue does appear to be fixed regardless.
At least a half-dozen users claim the fifth beta of macOS 10.12.2 addresses the crashing issues, which most often affected users backing up their new MacBook Pro to an external drive with Time Machine using a wired connection. Some users also reported crashing issues when transferring files between two external drives.
MacRumors forum member TreadEverSoLightly succinctly described the dilemma that a number of other users faced:
I'm already on my 2nd MacBook Pro. Picked up last Wednesday and swapped it for another model 2 days later after experiencing crashing while my laptop backs up via Time Machine to an external HD. Computer freezes up during data transfer and refuses to acknowledge my inputs. Then crashes and restarts itself.
It is unclear what the underlying problem was, with some users speculating it could have been related to USB driver, firmware, or software issues. Others believe large file transfers contributed to the problem. Ultimately, what matters the most is the issue now appears to be resolved.
MacRumors forum member saba01 is one of several users who delivered the good news today following weeks of complaints:
I had the same issue. My MacBook Pro crashed when transferring large files (over 4TB). I installed macOS 10.12.2 and the problem is solved! Yesterday I did a 40TB backup with no problems at all!
macOS Sierra 10.2.2 will likely be publicly released as a free software update later this month following completion of beta testing.