Apple Music global marketing executive Bozoma Saint John gave a brief interview at Fortune's Most Powerful Women Summit on Tuesday where she spoke about how self-confidence was crucial in her rise to prominence at Cupertino.
Known as "Boz" to her friends, Saint John joined the Apple team when the company acquired Beats Music in 2014. After her fun and memorable on-stage demonstration of the new Apple Music features at WWDC 2016 – not to mention her appearance in a recent Apple Music ad alongside senior Apple VP Eddy Cue – she has since become the recognized "head diva" for Apple's music services.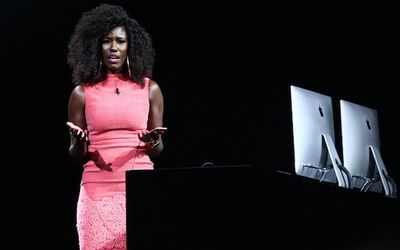 Emigrating from Ghana to Colorado at the age of 13, Saint John told technology reporter Leena K Rao that her height for such a young age and her skin color made it all but impossible to hide amongst her peers, but it taught her early on the importance of self-confidence.

"I couldn't hide, there wasn't a choice to do that," Saint John said. "So the choice was do you try to do what everybody else was doing? I couldn't be blond, I couldn't be white. I just couldn't be anything else, and so it meant that I had to become just all of everything that I have."
The experience of moving to the U.S. as a child meant that she embraced who she was early on, she said, which helped put her on course for success, beginning at Pepsi, moving on to join Beats, and now finding herself at Apple. At 13, she said she learned what it meant to walk into a room and "not care when everybody else turned around" and looked at you. "And here I am," she said.