Amazon has acknowledged a worsening counterfeit problem on its site and says it has made fighting the fake products a "major goal" for next year (via The Verge).
Last month Apple filed a lawsuit against Mobile Star LLC which it accused of infringing upon its trademarks and copyrights by selling counterfeit power adapters and cables on Amazon. Apple claimed the fake products posed a risk to life, and said it had found that almost 90 percent of so-called genuine Apple products and accessories it purchased from Amazon over the last nine months were actually counterfeit.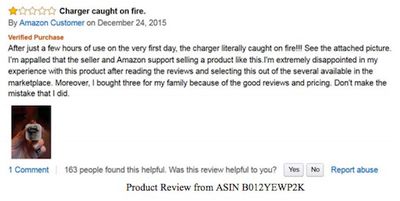 Following the lawsuit, Amazon said it had "zero tolerance for the sale of counterfeits" on its website and said it was working closely with manufacturers and brands to aggressively pursue the wrongdoers.
Bloomberg reports that Amazon now says it plans to create a registry to prevent fakes and wants legitimate brands to register even if they don't plan on selling products on the site. Merchants then have to obtain official brand permission before they can sell goods from the company.
Amazon has reportedly been experimenting with Nike and other brands to build the registry, but the company says it will target more brands in 2017 in an attempt to get them to sell their products on Amazon's marketplace. According to the report, Amazon tried to get the NFL and MLB to sell merchandise through its online marketplace, but the negotiations stalled because of a perceived lack of control over existing fake goods.