Apple Files $2M+ Lawsuit Against Counterfeiter, Finds 90% of 'Genuine' Accessories on Amazon Are Knockoffs
Apple has filed a lawsuit against Mobile Star LLC, accusing the firm of infringing upon its registered trademarks and copyrights by selling counterfeit 5W USB Power Adapters and Lightning to USB cables on Amazon and Groupon, according to court documents published electronically this week.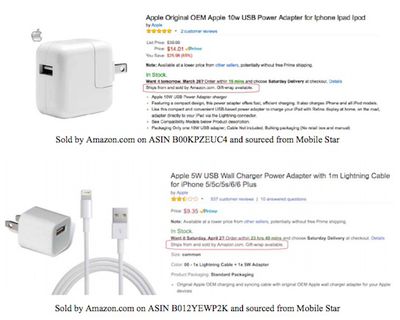 Apple said the counterfeit power products pose a significant danger to consumer safety because, among other things, they lack adequate insulation and/or have inadequate spacing between low voltage and high voltage circuits, creating risks of overheating, fire, and electrical shock.
The safety of Apple's customers is of paramount importance to Apple, and Apple devotes significant resources to ensuring its power products meet industry safety standards and are subjected to rigorous testing for safety and reliability. Apple brings this suit to stop Mobile Star from any further distribution of counterfeit Apple products to the public.
The legal complaint says the products, shipped and sold by Amazon through its Fulfilled by Amazon program, were listed as genuine Apple products, often using the company's copyrighted marketing images. Apple said Mobile Star's counterfeit products hurt its sales and damage its reputation.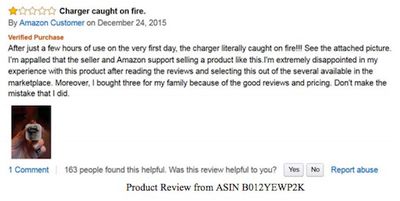 Apple determined at least a portion of Mobile Star LLC's chargers and cables were counterfeit upon purchasing them as part of its routine efforts to combat the distribution and sale of knockoff products. It then alerted Amazon, which subsequently removed Mobile Star's selling privileges.
Takedown notices are standard procedure for Apple, which found that almost 90% of so-called genuine Apple products and accessories it purchased from Amazon over the last nine months were actually counterfeit.
Over the last nine months, Apple, as part of its ongoing brand protection efforts, has purchased well over 100 iPhone devices, Apple power products, and Lightning cables sold as genuine by sellers on Amazon.com and delivered through Amazon's "Fulfillment by Amazon" program. Apple's internal examination and testing for these products revealed almost 90% of these products are counterfeit.
Apple went one step further and filed a lawsuit in this case because it said Mobile Star's distribution of counterfeit Apple products "brazenly continues" and extends beyond Amazon, including Groupon and direct sales. Mobile Star has also allegedly failed to cooperate with Apple upon being contacted.
Mobile Star's distribution of counterfeit Apple products is ongoing and extends beyond Amazon.com as shown by Apple's purchase of 10 counterfeit Apple products directly from Groupon in December 2015. […]

In addition, an Apple investigator recently purchased counterfeit Apple EarPods headphones and Lightning cables directly from Mobile Star, showing that Mobile Star is brazenly continuing to sell counterfeit Apple products even after learning that Apple was on to it.
Apple is seeking damages of up to $150,000 for each registered copyright infringed, in addition to damages of up to $2 million per trademark infringed. Apple has demanded a jury trial in the case, titled Apple Inc. v. Mobile Star LLC, in the U.S. District Court for the Northern District of California.
Update: Amazon tells MacRumors it has "zero tolerance for the sale of counterfeits" on its website. "We work closely with manufacturers and brands, and pursue wrongdoers aggressively," it said.