Since it's been revealed that Apple chose to use a soldered down, non-removable SSD in its 13-inch and 15-inch Touch Bar MacBook Pros, it's natural for users to wonder about the fate of their data in the event of a fault that requires a logic board replacement.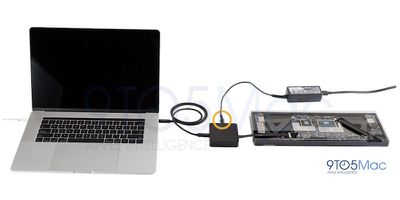 Fortunately it appears as if Apple has a proprietary in-house tool to rescue stored user data when disaster strikes. 9to5Mac reports that a dedicated port on the logic board allows Apple staff to attach the recovery tool once the board's been removed from the chassis. The tool then transfers the data from the SSD to a working MacBook Pro's drive via one of its USB-C ports.
All indications are that users won't be able to get their hands on this recovery tool, as it's only available to Apple support staff for emergency use when a laptop sent in for repair won't boot.