BeatsX Release Rumors Point to December Launch Date
Similar to the current confusion regarding the release date of Apple's AirPods, a couple of differing launch days for the new wireless BeatsX earphones have begun sprouting up online, leading to uncertainty over when exactly Apple will begin selling the new Beats-branded earphones.
In line with some AirPods rumors, most retailers are placing order dates in December for BeatsX. The new rumors would mean BeatsX will miss the retail rush of Black Friday and Cyber Monday coming up this week, but would place the earphones as potentially available for last-minute holiday shopping later in December.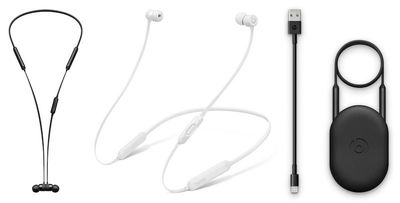 Fry's Electronics has the earphones listed as estimated to ship on December 5, 2016. Users can add the BeatsX to their cart, but pre-orders aren't available yet as checkout can't be completed at the time of writing. The date was originally spotted by a user on Reddit.
Photo, video, and audio electronics retailer B&H also has a date listed for BeatsX, with expected availability of the earphones on December 16. Users can pre-order BeatsX at B&H, although detailed shipping estimates for them are not yet available. At both Fry's and B&H, the BeatsX earphones are listed at the expected price of $149.95.


On Apple's website, the earphones are still simply "coming this fall." As was the case with the AirPods, it's likely that most retailers are using placeholder dates for BeatsX until they receive word on the official launch. Still, since November is nearly over and there's been no word from Apple yet, there is a growing possibility that both AirPods and BeatsX will launch sometime in December, in time for holiday shopping.
The BeatsX earphones were announced during Apple's September 7 iPhone event, along with the Beats Solo3 and Powerbeats3 devices. The new line of Beats headphones have Apple's W1 chip -- also found in the AirPods -- that lets them pair easily with an iPhone. The Powerbeats3 wireless earphones launched in October.