Powerbeats3 Wireless Earphones Now Available From Apple With Early November Delivery
Earlier today, a few users on Reddit in countries outside of the United States noticed that the Powerbeats3 Wireless Earphones have been made available to order from Apple.com, outlining arrival windows of as early as next week for users in the areas, and subsequently they have also gone live on the U.S. store.
The U.S. store currently shows delivery estimates of November 1–3, while the United Kingdom and France currently sit at November 2–9 on Apple's website and Australia is a few days later on November 4–8. Otherwise most countries, including Germany, Spain, Italy, and Sweden, all mention vague 1-2 week shipping estimates that fall within the window of the dates for other countries, without being specific.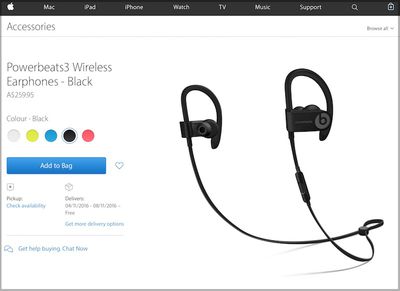 Apple.com in Australia depicting a delivery window of November 4-8
When the new headphones were
announced at Apple's September 7 iPhone event
, the company mentioned that the Powerbeats3 and BeatsX would be coming sometime later in the year but didn't say when. The Powerbeats3 also appear to be featured prominently in
next week's Target circular
, supporting a wide online and retail rollout is imminent in the United States beyond Apple's own sales.
For the BeatsX earphones, most versions of Apple.com still say "coming this fall," while Apple's upcoming AirPods are listed as "available late October" for every country.
(Thanks, Sai!)
Update: This article has been updated to note that Apple has begun taking orders in the United States.