Some 15-Inch MacBook Pro Models Misreporting Intel Iris Pro 580 Graphics
Several MacRumors readers have discovered that System Information readouts on some 15-inch MacBook Pro units appear to suggest they are running Iris Pro 580 integrated graphics, rather than Intel HD Graphics 530 as advertised in Apple's tech specs.
The strange inconsistency was first found on some demo units running in Apple Store showrooms, leading some readers to suggest Apple was running higher-specced machines in-store. However, since then, some owners of newly shipped 15-inch MacBook Pros have also noted the same inconsistency in stock laptops sold to them.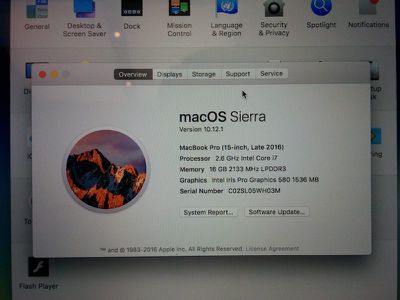 MacRumors forum member torquer discovered that on their machine, System Information reports an Intel HD Graphics 530 when the laptop is running on battery, but reports Iris Pro 580 once it's plugged in.
This would suggest a bug in macOS Sierra is causing System Information to misreport the integrated graphics chip in some 15-inch MacBook Pro models. Another indication of misreporting is that units which identify the GPU as an Iris Pro 580 appear to show the device ID string "191b", which correlates with the Intel HD Graphics 530 chip.
In addition, owners of machines reporting the more powerful Iris Pro 580 are not seeing the kind of graphics performance improvement one would expect. For the record, Intel only matches the more powerful Iris Pro 580 to Core i5-6350HQ and Core i7-6770/6870/6970HQ mobile processors, none of which Apple chose to use in its latest lineup of notebooks, likely due to power consumption concerns.