Apple Removed 47,300 Outdated iOS Apps From App Store in October of 2016
Back in September, Apple announced plans to start removing outdated apps from the App Store, promising to eliminate apps that are non-functional, not compatible with recent versions of iOS, or that do not adhere to current review guidelines.
According to data app analytics firm Sensor Tower shared with TechCrunch, Apple has made good on that promise. In October of 2016, the number of apps removed from the App Store increased by 238 percent, with Apple purging a total of 47,300 apps throughout the month.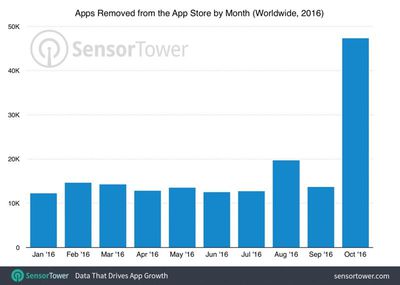 On an average month, Apple removes approximately 14,000 iOS apps, so October's much larger purge represents a significant step towards cleaning up the App Store.
Developers with problematic apps were notified starting in September, and Apple gave them 30 days to make changes to prevent their apps from being eliminated from the App Store. Apps that did not see updates were then removed.
Apps across all categories were subject to removal, but many of the 47,000 apps that were culled from the App Store were games. 28 percent of removed apps fell into the Games category, 8.99 were in the Entertainment category, 8.96 were in the Books category, 7 percent were in the Education category, and 6 percent were in the Lifestyle category.
The App Store purge is part of Apple's effort to improve the App Store. In recent months, Apple has opened up app subscriptions to all product categories, introduced more favorable revenue splits, improved sharing tools, and added ads to App Store search results to give developers new ways to promote their apps.