Apple Begins Shipping LG UltraFine 4K Displays
A day after the first 13 and 15-inch MacBook Pros with Touch Bars began preparing for shipment to customers, Apple and LG's UltraFine 4K Display has begun shipping. Shipments are expected to arrive next week, with one MacRumors forum member noting November 15 as their delivery date.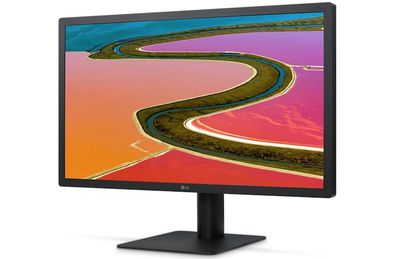 The 21.5-inch UltraFine 4K Display went up for pre-order at the same time as the new MacBook Pro with Touch Bar. At the time, deliveries were estimated to arrive on November 15 at the earliest. Current delivery estimates are quoted at 5 to 6 weeks.
Apple debuted the UltraFine Display at its MacBook Pro event last month in 4K and 5K variations. While the 4K display has been available for pre-order since the event, the 5K display is not yet available. The Cupertino company said it partnered with LG to develop the displays specifically for the new MacBook Pro, with Apple making sure that the displays are optimized for its products. Shortly after announcing the displays, Apple confirmed it was out of the standalone display business.
The 13-inch MacBook Pro with Touch Bar can power either one 5K UltraFine display or two 4K UltraFine displays, while the 15-inch MacBook Pro with Touch Bar can power either two 5K displays or four 4K displays. Additionally, both displays include three downstream USB-C ports and can charge a MacBook Pro over the same cable that carries the video and data signals.
In early November, Apple dropped the prices of both displays in an effort to smooth the transition for new MacBook Pro owners. The move was combined with price drops for all of Apple's USB-C adapters. The 27-inch 5K UltraFine display is now $974, a $325 price cut from the original price of $1,299. The 4K UltraFine display is now $524, a $175 price cut from the original price of $699. The lowered prices are only available until the end of the year.